9/15 – FINAL UPDATE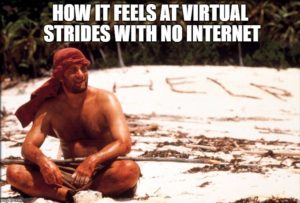 Internet access has been restored!
We will get completely caught up with shipping tomorrow. Remember, we ship medals AFTER you upload your results or at the end of each race period (whichever comes first), unless you elect to have your medals sent prior to doing so, which you can do with a single mouse click on your My Results page. 🙂
Thanks for your patience – We're baaaa-aaaack!!!
9/14 UPDATE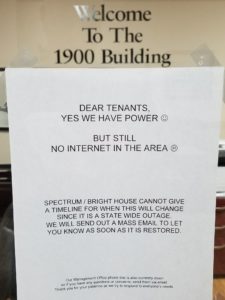 9/13 UPDATE
We are still without an internet connection at the office, but hope to have it back soon. Most street lights in the area are working again, several businesses are open today, and more than 50% of homes in the county have had their power restored. We are getting there.
9/12 UPDATE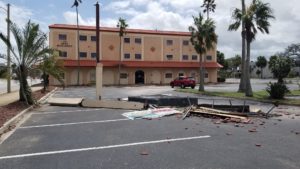 We survived Hurricane Irma with no damage to our office in Melbourne's historic 1900 Building. The building's sign located on the other side of our office windows did not fare as well.
All VS employees are safe with minimal damage to report… just lots of clean up. We have friend who were not as lucky, including one who lost their entire roof from a tornado within the storm, resulting in the total loss of their home.
Power has been restored to our office, but the internet is still down, leaving us unable to ship until it is restored. We hope to be back shipping again in the next day or two. Thanks for your patience and positive thoughts as we weathered the storm!
ORIGINAL POST (9/7)
Well here comes a real bummer of a blog post…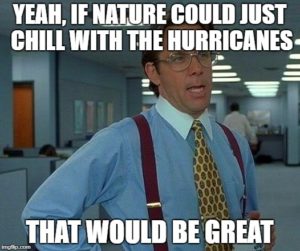 With Hurricane Irma soon to be visiting us here in Melbourne, Florida, our office building will be locked down per Brevard County evacuation orders beginning at 3 p.m. on Friday, September 8th. We will get in one final pre-storm shipping session Friday morning, but when we will be able to ship after that is TBD. It won't be until at least Tuesday/Wednesday of next week in a best case scenario and could be several days later depending on the severity of local power outages.
Remember, when we ship your medals is entirely up to you – Some people like to have their bling sent right away so they can have instant gratification after completing their runs, while others prefer to not have them shipped until they have been earned.
If you have placed any orders recently that have not yet shipped and you would like for us to send them Friday morning instead of waiting for you to upload your results, simply click the "Send my medals ASAP" box on your My Results page (ideally by 8 a.m. EDT Friday).
Customer support will remain available throughout the storm, as not all Virtual Strides employees are being impacted by the storm, but please bear with us if we are a little slower to respond than usual.
Thanks in advance for your positive thoughts – we will see you on the other side. Now go away, Irma!