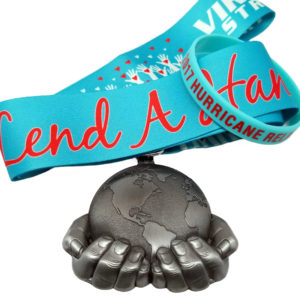 *** SOLD OUT ***
Distances: 5k, 10k, Half Marathon
To Benefit: One America Appeal
Regular Price: $20 – ALL $20 WILL BE DONATED!
Club VS Member Price: See below**
About this Virtual Run: Hurricanes Harvey, Irma, and Maria caused massive damage to Texas, Florida, Puerto Rico and throughout the Caribbean. This virtual run is a simple and fun way for YOU to help those most affected by these storms. The Lend a Hand virtual 5k/10k/Half Marathon is a virtual race like no other – We are donating every single dollar raised* to the hurricane relief efforts. Yes, that's right – You pay $20 to register, and we donate all $20 to the cause. Best of all, we have selected a charity that has promised "100 cents out of every dollar donated" will be used to help hurricane victims recover. That means there is exactly ZERO overhead from the time you register for this event until your funds reach those in need.
Participants in this global virtual race will receive a 3″ Lend a Hand finisher medal, a 2017 Hurricane Relief silicone bracelet, a digital race bib, and a huge sense of accomplishment from knowing they are making a difference for people in need. You can run or walk anytime and anywhere you want to support the cause. Medals will be shipped according to our standard shipping schedule, unless you elect to have yours sent before uploading your results by checking the "Send my medals ASAP" box on your My Results page.
PLEASE SHARE! We are operating with a shoestring budget for this event and cannot afford to advertise it heavily. Even if you are unable to participate, please SHARE this event with your friends!
About the Charity: 100% of the GROSS proceeds from this virtual race will be donated to One America Appeal. One America Appeal is a joint appeal that was originally launched by all five living former American Presidents to encourage their fellow citizens to support recovery efforts from Hurricane Harvey — which inundated the Texas Gulf Coast with unprecedented flooding. This special appeal has been expanded to include areas most affected by Hurricanes Irma and Maria. All funds collected through the One America Appeal will go into a special account at the George H. W. Bush Presidential Library Foundation, a tax-exempt 501(c)(3) organization, to ensure 100 cents out of every dollar donated goes to hurricane recovery.
For more information about the One America Appeal or to make an additional, direct contribution, please visit OneAmericaAppeal.org.
A COUPLE OF THANK YOUS: We would like to thank our partners who helped make this event possible…
*Virtual Strides will donate $20 to One America Appeal for every registration made in this event through 10/31/17 up to a maximum of $50,000 (Registration will be shut down at that time). Because we are donating all of the proceeds from this event, we are unable to include free USA shipping like we do for everything else on our website. Domestic shipping charges are $5 for the first registration and $2 for each additional registration.
**Due to the nature of this event, Club VS Member Pricing is not discounted, but we will cover the $5 shipping charge for Club VS members. Your order will show this as $15 + $5 shipping instead of $20 + $0 shipping, but the result is still the same $20 total cost vs. the $25 total Regular Price.