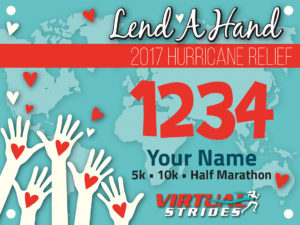 Sometimes after natural disasters strike, you see the best of humanity during the clean up and recovery process. People once divided by race, religion, politics and more, come together in these times of need to simply lend a hand to their fellow human beings. It is a beautiful thing that I have been fortunate enough to witness firsthand. Faith in humanity restored – right?
It is only natural for people to want to help out in times of crisis, but unless you live near the disaster area or are able to travel there to volunteer your time (ideally through a charity with experience coordinating volunteer labor), the best way to lend a hand is through financial support for reputable organizations who are spearheading relief efforts. Do your research and support worthy charities. JJ Watt, you are the man!
But what about participating in a virtual run? Every time tragedy strikes, people reach out to us at Virtual Strides and ask us to put on a virtual race to help support the victims. While this may sound like a great idea, we have never done this for several reasons:
It takes quite a bit time and work to plan a successful virtual race, including having medals designed, manufactured, and delivered. Our upcoming races are all planned several months in advance and disaster relief donations are often needed as quickly as possible.
While our virtual races raise awareness and money for causes and charities you may not otherwise have been familiar with, they are not the most efficient way to raise money for a given cause. In the case of providing relief after a natural disaster, it would be much better for you to simply make a $25 donation to a reputable organization helping with relief efforts than it would be for you to join a $25 virtual race that has so many expenses associated with it, reducing the amount of your entry fee that actually goes to those in need. You can read more about this balance in Our Philosophy.
Even if we gave 100% of the net proceeds from a special virtual race like this away, we didn't want to even suggest to anyone that we might be trying to turn a profit on the heels of tragedy. Of course that is not what we would be doing, but we wouldn't want anyone to even have that perception.
Given all of this, we have never set up a virtual race immediately after a natural disaster, despite the many requests we receive to do so. But this has always left us feeling a bit helpless, like we were not doing all that we could to fulfill our mission. Fortunately, that is all about to change.
We are pleased to announce a new kind of virtual race here at Virtual Strides: Lend A Hand.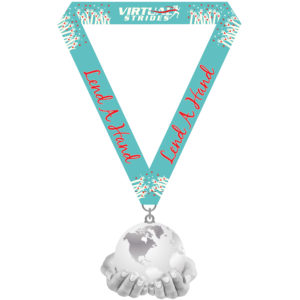 Lend a Hand is a virtual 5k/10k/Half Marathon that we will be hosting (now and possibly again in the future) in addition to our regular monthly events. What's best about it is every single dollar of Lend a Hand registration fees will be donated to those in need. Every. Single. Dollar! We set the price at only $20 per registration, and we will be donating all $20, covering all of the associated expenses ourselves and through the generous support of our partners Stride Awards (medals) and Plaid Frog (bib design).
Because we will be losing money with every registration, we cannot afford to include free USA shipping like we do for all of our other events. We can also not afford to advertise Lend a Hand as much as we do our other events, so we sincerely hope that you will share this event with your friends, whether you participate in it or not. Finally, for the time being, we are planning to cap our donation at $50,000, shutting down registration once that much money has been raised. If there is demand to continue past that point, we are hoping to find a corporate sponsor to help offset our expenses so we can continue. If this sounds like something your company might be interested in doing, please reach out!
You can read more about Lend a Hand on our Featured Virtual Runs page, or you can just go straight to the registration page. That's also a great place to click one of those friendly "Share" buttons you see on the side of the screen.
As always, thank you for your support.