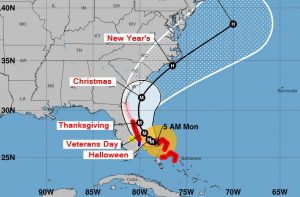 When we ship your medals is usually up to you (see here), but unfortunately, Hurricane Dorian has other plans for us here in Melbourne, Florida this week.
Our office building closed down Saturday morning and will not reopen until after the storm passes. We shipped everything we could on Friday, but any orders placed after mid-day Friday likely won't ship until at least this coming Friday, 9/6, depending on how much this hurricane affects us our area, how long power/internet are out, etc.
We will update this post after the storm passes, but for now, please assume we won't be shipping anything until at least Friday. Thank for your patience, and we will see you on the other side. Be safe!
9/5 UPDATE: While our office building was shut down for several days due to the very slow moving Hurricane Dorian, we were very lucky that the eye of the storm stayed out to sea and we sustained no damage. Our power and internet are back on, so we will resume shipping tomorrow, September 6. Thank you for your patience!