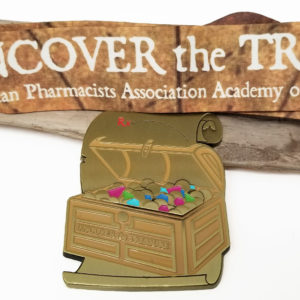 *** SOLD OUT ***
Distance: 5k
Cost: $25 – FREE Shipping!
To Benefit: American Pharmacists Association Academy of Student Pharmacists
About this Virtual Run: In order to make this fundraiser region-wide we went VIRTUAL! Participate in the Uncover the Treasure virtual 5k and support this year's American Pharmacists Association Midyear Regional Meeting for Region 3. Run or walk wherever and whenever you want to help support the cause and you will earn a fabulous 3″ treasure chest medal featuring 3D treasure!

About the Charity: Midyear Regional Meeting (MRM) is the only meeting in the United States that is designed for student pharmacists by student pharmacists. Help this years Region 3 Midyear Regional Meeting Coordinator plan, design and run this unique event. Each meeting provides an opportunity for student pharmacists to participate in leadership development, network with fellow students, explore career opportunities with potential employers, and celebrate the achievements of APhA-ASP chapters This event brings together student pharmacists from Region 3 which includes, Mississippi, Alabama, Tennessee, North Carolina, South Carolina, Georgia, Florida, and Puerto Rico!
Virtual Strides Partner Event: This event is part of the Virtual Strides Partners Program. The American Pharmacists Association Academy of Student Pharmacists will receive 100% of the net proceeds from this event after Virtual Strides' partner costs are deducted.