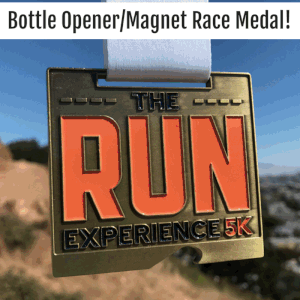 *** SOLD OUT ***
Distances: 5k
Cost: $29 – FREE Shipping!
To Benefit: The Run Experience
About this Virtual Run:
INCLUDED: Awesome 3" Race Medal – Bottle Opener and Fridge Magnet!
INCLUDED: Mini-Poster with signature Pre-Run Exercises!
INCLUDED: 1 Month of Training! Choose a program in the The Run Experience Training Club and get daily videos with a training schedule to improve your running technique, mobility and running strength. We've had thousands of runners PR with these programs!
INCLUDED: Coaching help and access to our amazing runner community! We have coaches who answer your questions live and we'll have a few live events on Facebook and Youtube to answer training questions.
DO GOOD: We're partnering up with a corporate sponsor to donate up to
$10,000
(!!!) on race weekend to charity.  All you have to do is track your run with our Atlas Run app and special code!

About The Run Experience: The Run Experience is an online coaching and training platform for runners around the world! Check out their free video content on YouTube and their free mobile app. You get full access to their training programs when you enter this Virtual 5K.
Virtual Strides Partner Event: This event is part of the Virtual Strides Partners Program. The Run Experience will receive 100% of the net proceeds and is using it to work with a corporate sponsor to donate $10,000 based on the total mileage run by participants in the race.