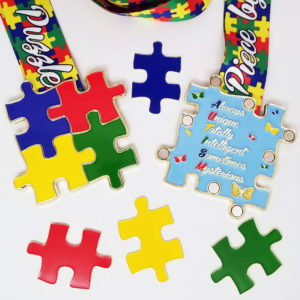 *** SOLD OUT ***
Distances: 5k, 10k, Half Marathon
To Benefit: Autism Society
Regular Price: $29
Club VS Member Price: $24 & Free Shipping
About this Virtual Run: More than 3.5 million Americans live with an autism spectrum disorder. Two years ago, our Piece by Piece virtual race raised money to help Autisum Speaks (a limited number of medals are still available). Now it's time to help the Autism Society increase awareness and support those living with Autism through the Solving The Puzzle virtual 5k/10k/Half Marathon. Run or walk anytime and anywhere you want to earn this colorful 4″ puzzle medal. The four puzzle pieces can be removed to reveal a beautiful message inside…
But wait, there's more! The inside of the medal features several butterflies, including a large blue one at the bottom. In 10 of the medals, this large butterfly will be GOLD instead of blue, and anyone who finds a GOLD butterfly inside their medal will win a Virtual Strides Gift Pack including a Virtual Strides medal hanger, a Virtual Strides visor, and a $50 Gift Card!
Medals containing GOLD butterflies will be randomly distributed to Solving the Puzzle virtual run participants throughout the race period. For complete contest rules and details, please read the Official Rules.
Found a Gold Butterfly? Fill out the Solving The Puzzle Prize Claim Form by 11:59 p.m. EST on March 31, 2018 in order to claim your prize!

About the Charity:  The Autism Society of America is a national source of information, advocacy, and support that reaches local communities with a one-of-a-kind nationwide network of autism knowledge and support. An organization with over 50 years of heritage and heart, the Autism Society, and its system of 90 affiliates, is dedicated to providing trustworthy, respectful and caring services that truly impact the lives of individuals on the spectrum.
A portion of the proceeds from this virtual race (at least $5 from each registration) will be donated to The Autism Society. For more information about this charity or to make a direct contribution, please visit Autism-Society.org.