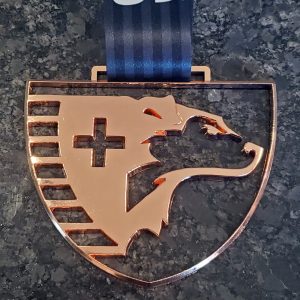 *** Medals Are Still Available! ***
Distances: 5k, 10k, Half Marathon, or Custom Challenge
To Benefit: Sheep Dog Impact Assistance
Regular Price: $29
Club VS Member Price: $24  & Free Shipping
About this Virtual Run: Join the Sheep Dog virtual race and run, walk, step, bike, or swim whenever and wherever you want to support a charity that improves the lives of our nation's veterans and first responders by helping them reengage in living an active, meaningful & productive life. All participants will receive this awesome 4″ die-cut medal of the SDIA logo. For the Sheep Dog, helping others is a way of life.

About the Charity: Founded in 2010, Sheep Dog Impact Assistance (SDIA) is a national non-profit organization founded and headquartered in Rogers, Arkansas. SDIA exists to engage, assist and empower our nation's "Sheep Dogs" (military veterans, law enforcement, fire & rescue, and EMS personnel) to Get Off The Couch™ and reengage in living a meaningful and productive life.
These heroes have an innate desire to serve and their service gives purpose to their lives; however, after an injury or shift/tour of duty ends, that purpose is often lost. By gathering together Sheep Dogs who have suffered similar traumas & experiences, SDIA has found that the camaraderie and peer support they receive fosters healing and is critical to their overall well-being, which helps prevent suicides in our Veteran and First Responder communities.
Joining SDIA in opportunities for physical activities, camaraderie & healing (Outdoor Adventures), training to transform struggle into strength and posttraumatic growth (Warrior PATHH), and volunteer opportunities for continued service (Disaster Response), a Sheep Dogs' innate desire to serve is again fulfilled. When Sheep Dogs #GetOffTheCouch together, their attitude and perspective are drastically improved, and many find healing and a renewed sense of purpose.
A portion of the proceeds from this virtual race (at least $5 from each registration) will be donated to Sheep Dog Impact Assistance. For more information or to make a direct contribution, please visit SheepDogIA.org.