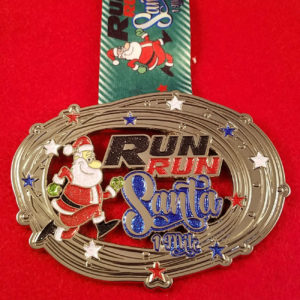 *** SOLD OUT ***
Distance: 1 Mile
Cost: $25 – FREE Shipping!
To Benefit: 412 Youth Missions + Outreach at Calvary Chapel
About this Virtual Run: Run Run Santa is the first ever, all-Santa race in Viera, Florida! On Christmas Eve, the one mile race will be held with 500 people dressed in Santa Claus attire running to celebrate the holidays Santa-Style. The physical race on 12/24 is sold out, but you can still be a part of the festivities from afar and support the cause! Santa is sure to smile when you earn this awesome running Santa race medal by participating virtually. It even comes with a special ornament string so you can hang it on your tree! It's fa-la-la-la-la fabulous!
Everyone participating in the physical race will be wearing a full Santa suit (Santa suits are not included with virtual registrations). Running or walking in your most festive holiday attire while you participate virtually is encouraged but is not required. We look forward to seeing the race photos you upload with your results!
About the Charity: Viera Pizza is proudly hosting this inaugural race to donate part of the proceeds to the 412 Youth Mission + Outreach at Calvary Chapel. Our goal is to encourage and enable more youth together, broaden perspectives, challenge comfort zones, empower and most importantly, help youth grow in their own faith in Christ. For the last several years, the team has gone to Mazatlan, Mexico to minister the needs of the community. Our hope is to increase youth participation in the coming year and to contribute more to the people of Mazatlan.
Virtual Strides Partner Event: This event is part of the Virtual Strides Partners Program. Viera Pizza and their selected charity will receive 100% of the net proceeds from this event after Virtual Strides' partner costs are deducted.