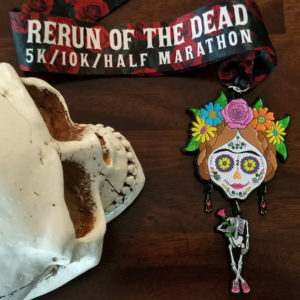 *** Medals Are Still Available! ***
Distances: 5k, 10k, Half Marathon
To Benefit: The Bone Marrow Foundation
Regular Price: $29
Club VS Member Price: $24 & Free Shipping
About this Virtual Run: The ReRun of the Dead virtual 5k/10k/Half Marathon is the sequel to our most popular virtual race ever, last year's Run of the Dead. By participating in this virtual race, you will be helping raise money and spreading awareness for a charity dedicated to helping patients needing bone marrow, stem cell, or cord blood transplants get the support they need. No transplant patient should ever feel alone.
Run or walk your chosen distance whenever and wherever you want to earn this colorful, glittery, 5″ Day of the Dead-themed medal, featuring a female runner's skeleton body and earrings dangling below her skull.

About the Charity: Founded in 1992, The Bone Marrow Foundation is dedicated to improving the quality of life for bone marrow, stem cell and cord blood transplant patients and their families by providing vital financial assistance, comprehensive resources, educational information, physician referrals, and emotional support programs.
Transplants treat over 70 life-threatening illnesses including cancers, genetic disorders, and other diseases. The Bone Marrow Foundation is the only organization of its kind that does not limit assistance to a specific disease, type of transplant, or age range. All of the Foundation's programs and services are offered to patients and their families free of charge.
A portion of the proceeds from this virtual race (at least $5 from each registration) will be donated to The Bone Marrow Foundation. For more information about this charity or to make a direct contribution, please visit bonemarrow.org.