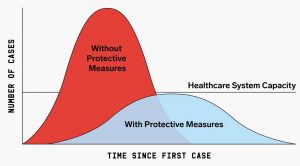 Here in Brevard County, Florida, with zero reported COVID-19 cases to date (yes, we know they are coming), we are already seeing the effects of the coronavirus on our local community.
For the foreseeable future, all large gatherings – including running events – are being cancelled per recommendations from the State of Florida and the Centers for Disease Control and Prevention. Race Directors have their hands tied and runners are frustrated.
At this point, it is unlikely anything will stop the spread of the coronavirus through the United States and the rest of the world, but by taking these steps to encourage social distancing, we can slow the spread of the virus and "flatten the curve" to hopefully prevent our healthcare systems from becoming overwhelmed. If the rest of the country isn't taking these measures yet, they will be soon, and more and more physical races are going to be cancelled.
How Can Virtual Strides Can Help Race Directors?
There are two ways Virtual Strides may be able to help you with your upcoming event:
First, check out our Partners Program. Essentially, this is a way for you to use our platform to add a virtual race option to your physical race. There are many benefits to offering your participants a virtual option, but the one I want to highlight here is giving the people who are reluctant to register for your physical event an alternative where they can avoid the race day crowds and still support your cause. As a bonus, by hosting your virtual race through Virtual Strides, your events will get exposure to our very large audience of virtual race enthusiasts. We have an email list of more than 57,000 past customers and our social media following is approximately double that.
In the event that you do have to cancel your physical event, we can help you with that too. We can import your registration data into our system, create digital bibs for all of your registrants, and give them a place to upload their results should they choose to run the race on their own. We can also handle ALL of the mailing of your shirts/medals to your registrants for you. All you need to do is get us those items along with your registration data, and we can handle the rest.
Our pricing is very reasonable, with a fixed set up fee and then a per-participant fee that covers all of the packaging, shipping, and even postage required to mail your shirts/medals to every single one of your registrants. We can do this as people upload their results or all at once – whatever you prefer. We are very flexible.
If you think Virtual Strides could be of help to you, please Contact Us and send us some information about your event. Whether your event is a few hundred runners or several thousand, we can help. Please don't hesitate to reach out for more information.