*** SOLD OUT ***
Distances: 5k, 10k, Half Marathon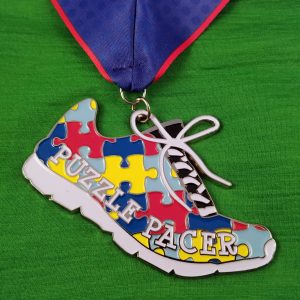 Cost: $29 – FREE Shipping!
To Benefit: Autism Society – the Heartland
About this Virtual Run: Autism spectrum disorder (ASD) is a complex developmental disability which affects 1 in 63 children. There is no known cause or cure at this time. Early diagnosis and intervention, access to appropriate services and supports, and increased awareness, will help lead to improved outcomes. Register for the Puzzle Pacer virtual run today to increase support for those with ASD! All registrants will receive a custom electronic race bib and a colorful 4″ Puzzle Pacer shoe medal.

About the Charity: Autism Society – the Heartland focuses on the whole person and the family. We support families and individuals with autism by providing resources, advocacy and educational tools. In 2016, we are creating opportunities for training, activities, self advocacy and support. In addition, we plan to add to our current services, looking specifically at: Employment, Adult Services, expansion of our Swim and Safety Program, education through our Just Like You Autism Film, Sibling Supports, as well as continuing to collaborate with area service providers.
Autism Society – the Heartland is an affiliate of Autism Society. We received the 2015 Affiliate of the Year Award from the National Autism Society. Autism Society – the Heartland received a 2015 Regional Mid-West EMMY Award for the Just Like You Autism Film.
Autism Society – the Heartland is a registered 501(c)3 non-profit. Our organization is fully funded by private donations, matching gift donations, and donations from events in the community. We do not receive state or federal funding.
Virtual Strides Partner Event: This event is part of the Virtual Strides Partners Program. Autism Society – the Heartland will receive 100% of the net proceeds from this event after Virtual Strides' partner costs are deducted.