Sale!
OktoBEARfest
Did you know that approximately 750 million adults – two-thirds of whom are women – are illiterate? The ability to read starts during childhood, and you can help make literacy and comfort possible for children who are ill and disadvantaged when you participate in the Bears Who Care OktoBEARfest virtual 5K. This is a perfect opportunity for you to run or walk with friends and family of all ages for a worthwhile cause that directly supports children. All participants will receive a digital race bib and an adorable 3D teddy bear medal with a special OktoBEARfest lanyard.
About the Charity
Bears Who Care brings comfort and engages the imaginations of ill and disadvantaged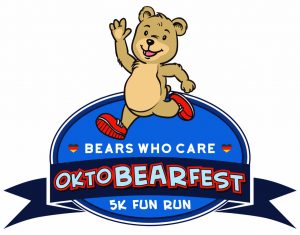 children by providing them with new teddy bears and books during their time of need. These efforts also bring relief to their parents, and the books specifically encourage literacy and give them a way to stay connected to their children.
Virtual Strides Partner Event: This event is part of the Virtual Strides Partners Program. Bears Who Care organization will receive 100% of the net proceeds from this event after Virtual Strides' partner costs are deducted.