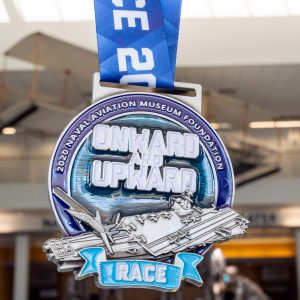 *** SOLD OUT ***
Distance: 1 mile, 5k, or 10k Run OR Bike Challenge
Cost: $35 – FREE Shipping!
To Benefit: Naval Aviation Museum Foundation
About this Virtual Run: Join this virtual race and represent the Naval Aviation Museum Foundation by participating in your own community as part of the fun. Whether you're a competitive runner, looking to walk with your pals, or just dusting off your sneakers, we welcome you to stretch it out and get your body moving for a great cause to earn this 4" iconic F-14 Tomcat Collector's Medal.
If you would like to bike your way to earn your medal OR run/walk a custom distance, please choose "Custom Challenge" in the Distance drop-down menu when registering and choose your distance in the options below.  If you want to customize your digital bib (free) or your premium printed bib ($5), you can add your name or a loved one's name to honor them (14 character limit).
Proceeds from the virtual race benefit the Naval Aviation Museum Foundation. The Naval Aviation Museum Foundation provides resources to support the National Naval Aviation Museum's rare and unique collection of aircraft and exhibits.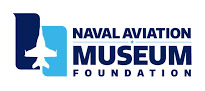 About the Charity: The Naval Aviation Museum Foundation is the economic engine to the National Naval Aviation Museum and continues to provide a major portion of its support. The Foundation works diligently to raise funding through gifts and memberships. All funding, aside from Foundation staffing and operational costs, goes to the operation, maintenance and enhancement of the Museum, including Museum expansion, aircraft preservation, conservation and maintenance, development of new exhibits and support of day-to-day functions. The Foundation also supports the advancement of STEM education through the National Flight Academy, a cutting edge, aviation-themed learning adventure.
Virtual Strides Partner Event: This event is part of the Virtual Strides Partners Program. Naval Aviation Museum Foundation will receive 100% of the net proceeds from this event after Virtual Strides' partner costs are deducted.