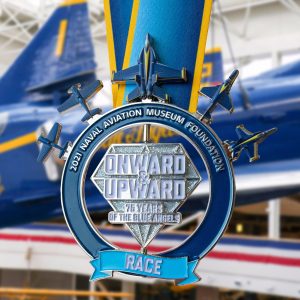 *** SOLD OUT ***
Distance: 1 mile, 5k, or 10k
Cost: $35 – FREE Shipping!
To Benefit: Naval Aviation Museum Foundation
About this Virtual Run: The Blue Angels can often be seen in the skies overhead as they carry out training missions above the National Naval Aviation Museum most Tuesday and Wednesday mornings from March to November.
The National Naval Aviation Museum has several historic Blue Angel jets on display including four former Blue Angel A-4 Skyhawks. Hanging majestically from the seven-story, glass and steel atrium framework, four McDonnell Douglas A-4F Skyhawk jets are suspended in a forever perfect diamond formation.
This season the squadron celebrates their 75th anniversary with new aircraft, debuting the squadron's more powerful F/A-18E/F Super Hornets. As part of the Angels' 75th anniversary celebration the Museum Foundation is hosting the second annual Onward & Upward Virtual Race in celebration of their 75-year history, paying tribute to the world-famous U.S. Navy Blue Angels.
Each participant will receive this 4″ commemorative medal celebrating the 75th anniversary!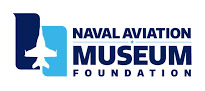 About the Charity: Since its establishment in 1966, the Naval Aviation Museum Foundation has provided the flight path for thousands of benefactors to support the Museum. The Foundation works diligently to raise funding through gifts and memberships. All funding, aside from Foundation staffing and operational costs, goes to the operation, maintenance and enhancement of the museum, including museum expansion, aircraft preservation, conservation and maintenance, development of new exhibits and support of day to day functions. The Foundation also supports the advancement of STEM education through the National Flight Academy, a cutting edge, aviation-themed learning adventure.
Virtual Strides Partner Event: This event is part of the Virtual Strides Partners Program. The family of Naval Aviation Museum Foundation will receive 100% of the net proceeds from this event after Virtual Strides' partner costs are deducted.