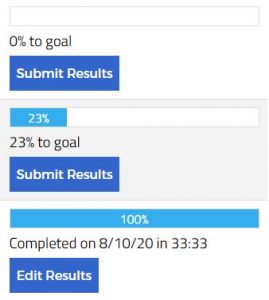 When we started Virtual Strides back in 2014, our idea for a "virtual race" was for it to be an alternative to a real running race, with the main difference being that you would complete it whenever and wherever you wanted to, instead of everyone starting at the same time in the same place. So, if you registered for a Half Marathon, for example, you would go out and run or walk your 13.1 miles all at once and then come back to our site and report your finish time.
Our minimum distance offered was 5k, but wanting to be inclusive and encouraging to people of ALL physical ability levels, especially those just starting out, we allowed people to break up the distance over multiple days if they needed to. People would track their distance and time each day and then submit their total finish time when they reached their goal.
As more and more virtual race competitors have popped up over the years, some promote a different style of virtual race, which is less of a "race" and more what I will call a "Distance Challenge." With this style of a virtual race, you choose your goal distance and then chip away at it over time, maybe over the course of a few days, an entire month, or even a full year. A lot of our customers have asked us to offer longer distances, like 100 miles races, for example. They don't intend to go out and run 100 miles all at once, but they want to work toward a larger goal over time.
Frankly, this is a good idea. It's something we have wanted to offer for a long time, but it's completely different than how we initially built our results system to work. We aren't offering 100 miles distances yet, but we are happy to announce that we finally have everything working with our new results system. At least we hope everything is working – please Contact Us if you notice anything weird!
Our entire back-end and database system for how we store your results is different now, but from your point of view, the only real difference you will notice is that you now have the ability to submit partial results as you work toward your goal, instead of having to wait and add it all up to submit after you have completed the full distance. You will see a handy-dandy Progress Meter on your My Results page for each race you haven't yet completed as well.
This may not seem like that big of an announcement to you, and on the surface, maybe it isn't. But it's a KEY piece for a new feature we will have coming soon. To learn what that is, you will need to be patient for a little while longer… 🙂