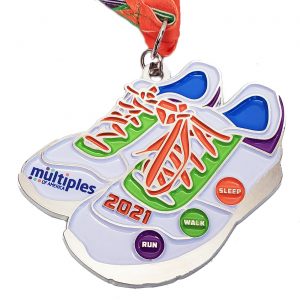 *** SOLD OUT ***
Distance: 1k or 5k
Cost: $30 – FREE Shipping!
To Benefit:  Multiples of America
About this Virtual Run: For the past 61 years, Multiples of America has been a leader in helping empower multiple birth parents in raising families when two, three, four, or more, arrive at one time. In coordination with Multiple Birth Awareness month (April) and their organizational theme for the month "Move for Multiples," they endeavor to raise awareness of the unique qualities and challenges of raising multiple birth children. From possible extended NICU stays to planning for college and everything in-between, they provide education, research and support and are focused on increasing benefits for members in underserved geographical locations.
All participants will receive a 3.5″ Multiples of America sneakers finisher medal. All money raised during this run will be used to fund their scholarship and endowment programs benefiting multiple birth families nationwide.
About the Charity: Multiples of America is a 501(c)3 national non-profit organization dedicated to working with multiple birth parents and their children/families through support, education, and research. We partner with local chapters, health care providers, researchers, and educators across the nation, as well as, global multiple birth organizations, striving to aid parents of multiple birth children in their daily journey, and raising awareness of the unique aspects of rearing twins, triplets, quadruplets, and more.
Virtual Strides Partner Event: This event is part of the Virtual Strides Partners Program. Multiples of America will receive 100% of the net proceeds from this event after Virtual Strides' partner costs are deducted.