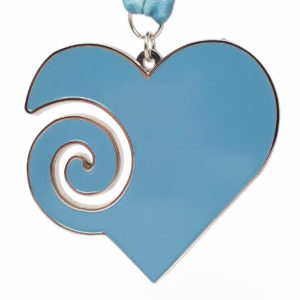 *** SOLD OUT ***
Distance: 5k
Cost: $30 – FREE Shipping!
To Benefit: Loeys-Dietz Syndrome Foundation
About this Virtual Run: Loeys-Dietz Syndrome (LDS) is a genetic disorder that affects the connective tissue in the body. The disorder was first observed and described by Dr. Bart Loeys and Dr. Hal Dietz at the Johns Hopkins University School of Medicine in 2005. Since then, other groups around the world have described additional genetic causes of Loeys-Dietz syndrome.
Individuals with LDS exhibit a variety of medical features in the cardiovascular, musculoskeletal, skin and gastrointestinal systems. Information about the natural history and management of individuals with LDS continues to evolve.
Register to run or walk a virtual 5k anywhere and anytime you want to support the cause. All participants will receive this symbolic heart medal.  You'll be doing your body good and helping to raise awareness for this valuable foundation!

About the Charity: The Loeys-Dietz Syndrome Foundation (LDSF) is dedicated to:
-encouraging education about Loeys-Dietz syndrome and related connective tissue disorders to medical professionals and lay communities in order to aid in identification, diagnosis, and treatment of Loeys-Dietz syndrome
-fostering research about Loeys-Dietz syndrome
-providing a support network for individuals, parents, and families affected by Loeys-Dietz syndrome
Virtual Strides Partner Event: This event is part of the Virtual Strides Partners Program. Loeys-Dietz Syndrome Foundation will receive 100% of the net proceeds from this event after Virtual Strides' partner costs are deducted.