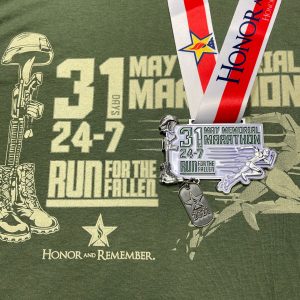 Distance: Exactly 30 Minutes – See Below
Cost: $30 for Medal Only;
$45 for Medal and Shirt Combo
FREE Shipping!
To Benefit:  Honor And Remember
About this Virtual Run: Every year it becomes more important to educate folks on the meaning of Memorial Day. It is perhaps one of the main reasons that the Honor and Remember exists. Families who have given their loved ones in the service of our country deserve to know that we haven't forgotten their sacrifice.
This virtual race is truly like no other. Rather than registering for a set distance and timing yourself, all participants are asked to run/walk/bike/step in 30 minute increments. If you choose to submit your results (always optional), you can simply "Edit" your distance to whatever distance you completed and then enter your 30:00 time for your finish time. Participants are welcome to complete as many 30 minute segments as they want.
If you would like your participation recognized on the official May Memorial Marathon website, visit the calendar and register yourself there (free) for the exact date/time(s) you plan to participate. You can register for as many time slots as you want! The ultimate goal is to have all 14,880 time slots for the month of May filled in order to create an unbroken relay chain of remembrance.
All participants in this virtual race are eligible to purchase an official May Memorial Marathon finisher medal and shirt (a "Medal Only" option is available as well).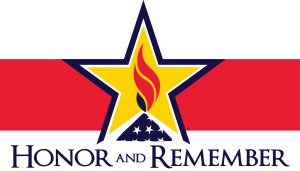 About the Charity: Honor and Remember perpetually recognizes the sacrifice of America's military fallen service members and their families. The organization pays tribute to all military lives lost, not only while serving on active duty but also as a result of serving. Military deaths in all wars or conflicts and all branches of service from our nation's inception are recognized.
The primary vehicle for perpetual recognition is a specific and dedicated symbol of remembrance created by this organization: the Honor and Remember Flag, which is intended to fly continuously as a tangible and visible reminder to all Americans of the lives lost in defense of our national freedoms.
Virtual Strides Partner Event: This event is part of the Virtual Strides Partners Program. The Honor and Remember organization will receive 100% of the net proceeds from this event after Virtual Strides' partner costs are deducted. If you'd like to make a direct donation, please visit the Run For The Fallen donation page.