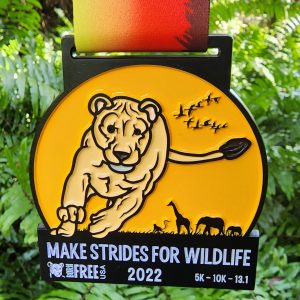 *** SOLD OUT! ***
Distance: 5k, 10k, 13.1 (or Custom Challenge)
Cost: $30 – FREE Shipping!
To Benefit: Born Free USA
About this Virtual Run: Celebrate wild animals with Born Free USA! They will be celebrating their 20th anniversary in the United States with the Make Strides for Wildlife Virtual Run during the entire month of September.
You can join this virtual 5k/10k/13.1 race to help benefit wildlife in the United States and around the world. For a $30 registration fee, you can feel great about what you are doing for the natural world while you do something wonderful for your health. Set your own pace, walk your dog, jog with friends, or run a road race. All you need to do is register and you will receive a limited-edition Born Free USA 20th Anniversary medal.
Make strides for wildlife this September!
Join the Fun on Social Media
Thank you for joining Born Free USA's Make Strides for Wildlife Virtual Race! Get friends and family involved by posting about it on social media! Here is a sample post for Twitter and Facebook:
I just joined Born Free USA's #MakeStridesforWildlife virtual race to support wildlife conservation, animal protection, and celebrate Born Free USA's 20 years working to #KeepWildlifeInTheWild! Join me by signing up at bit.ly/stridesforwildlife
Then, once the race period begins on September 1, be sure to post as you complete your challenge! Please tag Born Free USA on Twitter (@bornfreeusa) and Instagram (@bornfreeusaorg) and use the hashtag #MakeStridesForWildlife across your social media accounts!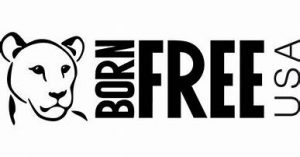 About the Charity: Born Free USA is celebrating 20 years of protecting wildlife! Launched in the United States in 2002, Born Free USA's mission is to protect endangered species and rescue individual animals. They run one of the largest primate sanctuaries in the United States for rescued monkeys, are leading the fight against trapping on public lands, protecting endangered species in West Africa while fighting the illegal wildlife trade, and championing to save all wild animals from the abuses of captivity.
Virtual Strides Partner Event: This event is part of the Virtual Strides Partners Program. The Born Free USA organization will receive 100% of the net proceeds from this event after Virtual Strides' partner costs are deducted.