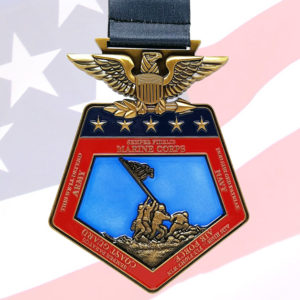 *** Medals Are Still Available! ***
Distances: 5k, 10k, Half Marathon
Cost: $29 – FREE Shipping!
To Benefit: National Military Family Association
About this Virtual Run: We live in the "Land of the Free, Because of the Brave." Lest We Forget.
Help us support a charity that serves the families of our armed service members by participating in the Lest We Forget virtual 5k/10k/Half Marathon. Run or walk whenever and wherever you want to support the cause and earn this patriotic 5″ medal, featuring a 3D-sculpted Iwo Jima flag raising in front of a stained glass blue sky background. Surrounding this iconic scene are the names of the five branches of the U.S. Armed Forces and each branch's motto, all below a 3D American eagle. Photos do not do this medal justice – it is guaranteed to wow you in-person.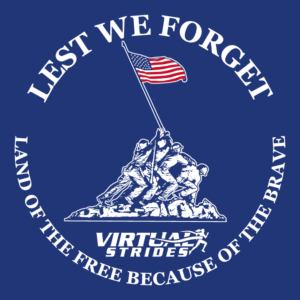 SHIRTS: During early registration, we held a Lest We Forget campaign at Booster where anyone interested could order a matching race shirt. These shirts will be delivered separately from medals in mid-May, and 100% of the funds raised through this campaign will be donated to the featured charity in addition to our standard per-medal donation! UPDATE: We ordered a bunch of additional shirts through the Booster campaign for anyone who missed the deadline and still wants to buy one. Pricing is the same (shipping is included in our pricing), but styles and sizes are limited! Order a Lest We Forget shirt HERE.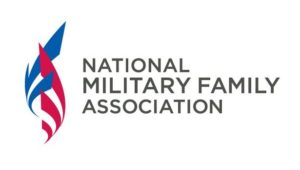 About the Charity: The National Military Family Association is the leading nonprofit dedicated to serving the families who stand behind the uniform. Since 1969, NMFA has worked to strengthen and protect millions of families through its advocacy and programs. They provide spouse scholarships, camps for military kids, and retreats for families reconnecting after deployment and for the families of the wounded, ill, or injured. NMFA serves the families of the currently serving, retired, wounded or fallen members of the Army, Navy, Marine Corps, Air Force, Coast Guard, and Commissioned Corps of the USPHS and NOAA. This organization understands better than anyone that "military families serve too."
A portion of the proceeds from this virtual race (at least $5 from each registration) will be donated to the National Military Family Association. For more information about this charity or to make a direct contribution, please visit MilitaryFamily.org.