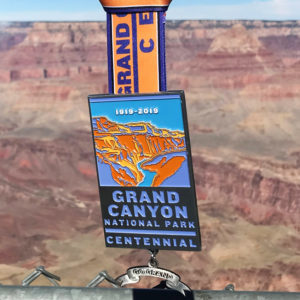 *** SOLD OUT ***
Distances: 5k, 10k, Half Marathon
To Benefit: Grand Canyon Conservancy
Regular Price: $29
Club VS Member Price: $24 & Free Shipping
About this Virtual Run: Virtual Strides is proud to announce that we have been selected to host the official virtual race of Grand Canyon National Park's Centennial celebration! On February 26, 2019, the Grand Canyon celebrates 100 years since it's designation as a national park. After 100 years, whether its hiking a corridor trail, taking a stroll on the rim or enjoying the landscape from an overlook, Grand Canyon continues to provide a space for all visitors to connect with the outdoors.
Please join Virtual Strides' Go Grand virtual race and run, walk, or stride your chosen distance whenever and wherever you want to help raise money to preserve this iconic National Park. All participants will receive an officially licensed 4″ Grand Canyon National Park Centennial medal, featuring a hanging "Go Grand" charm.

About the Charity: Grand Canyon Conservancy (formerly Grand Canyon Association) is the official nonprofit partner of Grand Canyon National Park, raising private funds, operating retail shops within the park, and providing premier guided educational programs about the natural and cultural history of the region. Supporters fund projects including trails and historic building preservation, educational programs for the public, and the protection of wildlife and their natural habitat. Grand Canyon Conservancy inspires people to protect and enhance Grand Canyon National Park for present and future generations.
A portion of the proceeds from this virtual race (at least $5 from each registration) will be donated to Grand Canyon Conservancy. For more information about this charity or to make a direct contribution, please visit GrandCanyon.org.