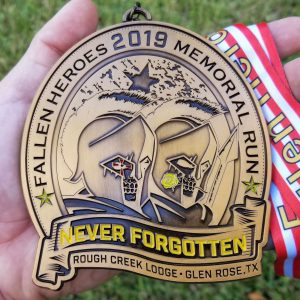 *** SOLD OUT ***
Distance: 5k
Cost: $29 – FREE Shipping!
To Benefit: Operation Valor
About this Virtual Run: Join us in celebration of the lives and memories of Navy SEAL Chris Kyle and his close friend Chad Littlefield, taken from us all tragically on February 02, 2013. Run or walk whenever and wherever you want to honor these fallen heroes. All participants will receive this HUGE 5″ Never Forgotten medal.
The proceeds from this event will go directly to:
-Adaptive Training Foundation
-Lone Survivor Foundation
-LT Mike Murphy Navy SEAL Museum
-Operation Enduring Warrior
-Navy SEAL Family Foundation
-Vetted Foundation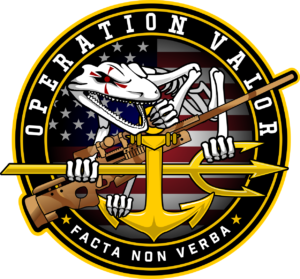 About the Charity: Operation Valor is a 501(c)3 non-profit foundation whose mission is to raise awareness for veteran's issues and support fully vetted charities that support the veteran community. Each year, we put on a series of fitness competitions and trail/road races both to promote fitness as well as raise funds and awareness for those charities.
Thank you for your support of our nation's veterans.
Follow us on the InterTubes: Instagram | Twitter | Gear
Virtual Strides Partner Event: This event is part of the Virtual Strides Partners Program. Operation Valor will receive 100% of the net proceeds from this event after Virtual Strides' partner costs are deducted.