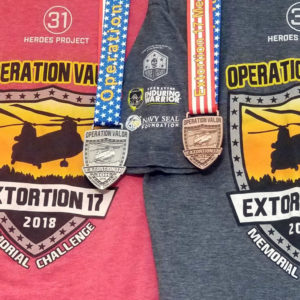 *** SOLD OUT ***
Distance: 5k, 10k
Cost: $39 for Medal & Shirt or $25 for Medal Only
FREE Shipping!
To Benefit: Operation Valor
About this Virtual Run: "Early in the morning of Saturday, 06-Aug-2011, a U.S. Army CH-47D Chinook helicopter approached a landing zone in Afghanistan 40 miles southwest of Kabul. The helicopter, call sign Extortion 17, was on a mission to reinforce American and coalition special operations troops. It would never return. Insurgents fired at the Chinook, severed one of its rear rotor blades, and brought it crashing to the ground. All 38 on board, including 31 Americans, perished instantly in the single greatest moment of sacrifice for Americans in the war in Afghanistan. Those killed were some of the U.S.'s most highly trained and battle-honed commandos, including 15 men from the Gold Squadron of the Naval Special Warfare Development Group, known popularly as SEAL Team 6, which had raided a Pakistan compound and killed Osama bin Laden just three months earlier." –Ed Darack, "The Final Mission of Extortion 17"
The downing of Extortion 17 and the massive loss of so many Special Operators sent a shock wave through the SpecOps community within hours. It's one thing to work within the Special Operations community. And, it's most certainly something special to operate as a U.S. Navy SEAL. And even further… it's an incredible duty, honor, and responsibility to work as a member of DEVGRU. But, it's STILL beyond that to operate as a member of Gold Squad. The men lost that day were the best… of the best… OF THE BEST. The men we lost that day were the "tip of the spear" in every way possible. We want to raise awareness for this tragedy and the ultimate sacrifice made by all these men.  To that effect we're putting on a nation-wide fitness competition AND hosting a series of Virtual Runs!
Support Operation Valor by registering for a 5k (3″ bronze medal) or 10k (3.5″ silver medal) virtual race. When you register, you can select a shirt/medal combo or choose a medal only option. Shirt colors are not guaranteed.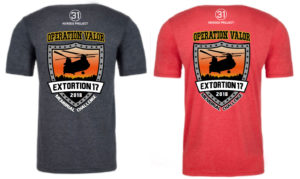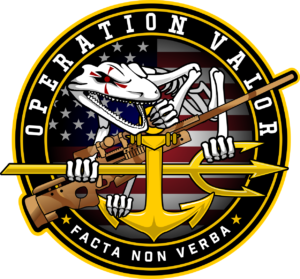 About The Charity: Operation Valor is a 501(c)3 non-profit, 100% all-volunteer foundation whose mission is to raise awareness for veterans' issues and support fully vetted charities that support the veteran community. Each year, we put on a series of fitness competitions and trail/road races both to promote fitness as well as raise funds and awareness for those charities.
Virtual Strides Partner Event: This event is part of the Virtual Strides Partners Program. Operation Valor will receive 100% of the net proceeds from this event after Virtual Strides' partner costs are deducted.  ALL net proceeds benefit: 31 Heroes, Navy SEAL Foundation, Operation Enduring Warrior, Combat Wounded Coalition, The Raider Project