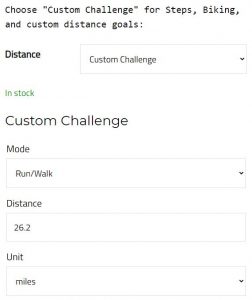 We are happy to announce an exciting new feature that will give Virtual Strides participants a lot more flexibility with their goal setting for our virtual races. In addition to our standard 5k, 10k, and Half Marathon distances, participants can now choose a Custom Challenge option during the registration process. With Custom Challenges, participants can choose ANY distance they want for their virtual race.
Not only that, but with Custom Challenges, participants also have the option to choose either counting Steps (perfect for Fitbit users*) or Biking as the mode for their virtual race, instead of being limited to running or walking. Keep in mind our results system allows you to upload your progress as you go, so you are not limited to completing your custom distance all at once either. Custom Challenges are perfect for those of you who want to select a longer distance as your goal and chip away at it over time.
Your Custom Challenge can be whatever you want it to be, but here are a few examples:
-Run 1 mile
-Bike 40k
-Bike 100 miles
-Run a full marathon (26.2 miles)
-Run/walk a 100k ultra
-Complete 10,000 steps in a day
-Complete 300,000 steps in a month
-Run/walk 2021 miles in 2021
-Run 6.23 miles on your 6/23 birthday
-And on and on and on…
If you can dream it, you can make it a Custom Challenge. We are looking forward to seeing the challenges you all come up with!
Participants' Custom Challenge results for each event will be listed in a new section on the Virtual Race Results page of our website. If you do not want your results displayed publicly, you can simply check the "Do NOT display my results publicly" box on your My Results page to make your goal, progress, and final results private.
*Fitbit Users: At this time, you will need to use the Manual Entry option to upload your step totals. We are working on a direct integration to pull in your step totals, but for now, linking to your Fitbit account will still only pull over your "Activity" records (where you manually pushed the Start/Stop button on your device to time yourself for a specific activity).