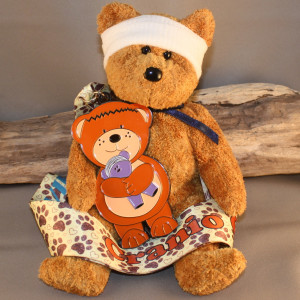 *** SOLD OUT ***
Distances: 5k, 10k, Half Marathon
To Benefit: Cranio Care Bears
About this Virtual Run: Craniosynostosis is a condition in which the sutures between plates of a newborn's skull close prematurely, causing problems with normal brain and skull growth. Premature closure of the sutures may also cause the pressure inside of the head to increase and the skull or facial bones to change from a normal, symmetrical appearance. Help raise awareness about craniosynostosis by participating in the Cranio Care Bears virtual 5k/10k/Half Marathon whenever and wherever you want. All registrants will receive a personalized race bib and a this adorable four-inch teddy bear medal. Medals will be shipped to participants after they upload their results or at the end of the virtual race period, whichever comes first.
About the Charity: The mission of Cranio Care Bears is to spread awareness, support & compassion through loving care packages to families of children facing surgery for craniosynostosis. Each care package includes items for the child and family to relieve the stress accompanying this very serious surgery. Cranio Care Bears also offers one on one support before, during and after surgery, and strives to bring awareness of craniosynostosis to families & the medical community for early detection.
A portion of the proceeds from this virtual run (at least $5 from each registration) will be donated to Cranio Care Bears. For more information about this organization or to make a direct contribution, please visit CranioCareBears.org.