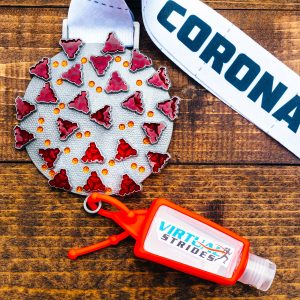 *** Medals Are Still Available! ***
Distances: 5k, 10k, Half Marathon
To Benefit: Direct Relief
Regular Price: $30 
Club VS Member Price: $25  & Free Shipping
SHIPPING NOTE: Due to USPS Shipping Restrictions, international and APO/FPO/DPO (military) orders will be shipped with empty hand sanitizer bottles. USA orders will be shipped with full hand sanitizer bottles!
About this Virtual Run: We have been in business for five and a half years and have never received as many requests for a virtual race as we have for this one. Join the Coronavirus Relief virtual race and help us support a charity that is responding to the coronavirus pandemic by providing PPE to health workers, bolstering critical care capacity, and strengthening general medical support. You can run or walk anytime and anywhere you want to support the cause!
All participants will receive a 3D coronavirus medal, featuring a toilet paper patterned ribbon, an attached silicone keychain containing a 1 fluid ounce bottle of hand sanitizer*, a "Wash your hands, ya filthy animal" button you can attach to your medal ribbon or proudly wear whenever you leave home, and a forehead thermometer you can use to take your temperature.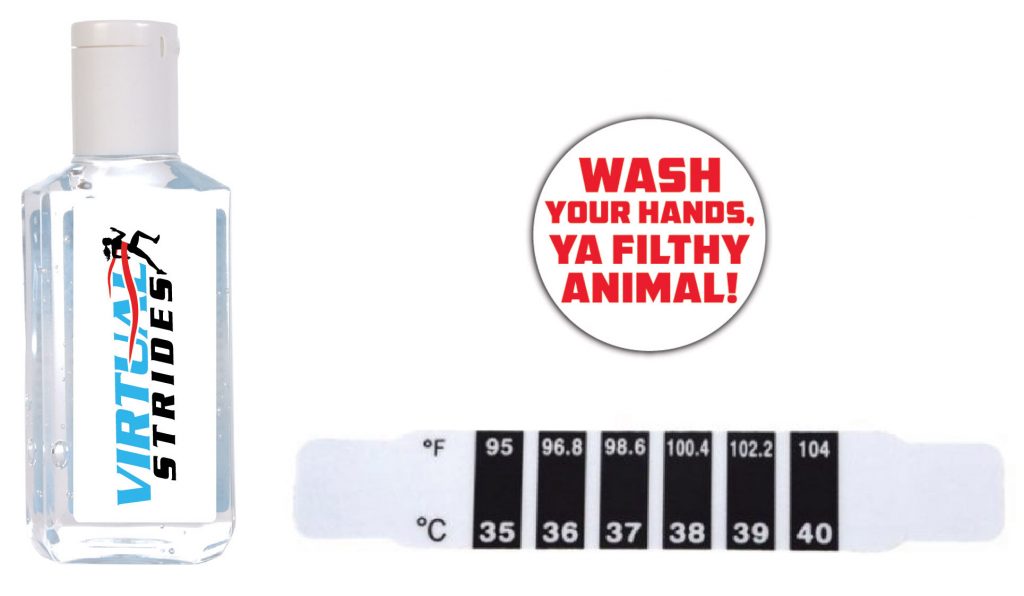 *Due to USPS shipping restrictions, hand sanitizer bottles will be only be included with orders shipping to USA mailing addresses. International (and military) orders will receive empty hand sanitizer bottles in their keychains.
And yes, that really is a bottle of "Virtual Strides" hand sanitizer you see. We wanted to include this with the medal but had so much trouble finding any, we commissioned a factory to make our own! It's the real deal too: 75% alcohol, well above the CDC's guideline of 60% or higher. Because we we were forced to produce THOUSANDS of these little bottles in order to get our hands on ANY, we have decided to sell them as add-ons for participants in this race as well. Additional bottles can be purchased for $4 each (limit 5 per registration), including shipping.
P.S. We are not looking to get rich selling hand sanitizer. We just really wanted to include it (for free) with these medals and would like to try to sell some of the extra thousands of bottles we bought to recoup some of the expense we incurred to get these and to help get it into the hands of those of you who may be unable to find it elsewhere.

About the Charity: Direct Relief is a humanitarian aid organization, active in all 50 states and more than 90 countries, with a mission to improve the health and lives of people affected by poverty or emergencies – without regard to politics, religion, or ability to pay. In response to the COVID-19 pandemic, Direct Relief is:
-Providing assistance in the form of personal protective equipment, or PPE, for health workers
-Building an ICU medication model and mobilizing private resources to build a stockpile to assist with the anticipated spike in ICU patients
-Boosting support to safety-net facilities to address existing chronic gaps that are likely to grow
A portion of the proceeds from this virtual race (at least $5 from each registration) will be donated to Direct Relief. For more information about this charity or to make a direct contribution, please visit DirectRelief.org.