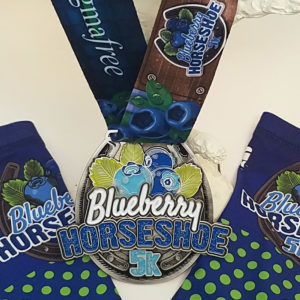 *** SOLD OUT ***
Distance: 5k
Cost: $35 – FREE Shipping!
To Benefit: NAMI Florida
About this Virtual Run: The Blueberry Horseshoe 5k is a deliciously sweet race on Sun. Feb. 19th, 2017 in Reddick, FL at Lambholm South. Attendees will experience breathtaking views and nature's bounty on this equestrian estate. Whether it's the venue, incredible prizes, fun for the family, or joining to support NAMI FL, this is a travel-worthy 5k!If you can't make it to the physical race, you can still participate virtually anytime and anywhere you'd like between Feb. 1st and Mar. 31st. All Virtual race participants will receive the hefty 4″ Blue Champion medal featuring a double sided ribbon design with a velcro closure PLUS an awesome set of matching arm sleeves featuring a no-slip gripper… the perfect addition to your gear to protect against the summer sun or layer in colder weather!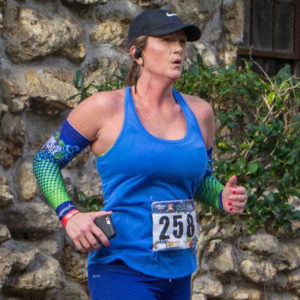 About the Charity: Plaid Frog is proudly crafting this event which benefits NAMI Florida (National Alliance on Mental Illness). NAMI is the nation's largest grassroots mental health organization dedicated to improving the lives of persons living with serious mental illness and their families. Founded in 1979, NAMI has become the nation's voice on mental illness. NAMI Florida is the state level of NAMI that oversees and governs active chapters in 40 counties across the state! They provide FREE education and support programs for individuals who live with mental illness, their loved ones, and the public. NAMI Florida is responsible for mental health advocacy at the Florida Legislature and public awareness programs in local communities.
Virtual Strides Partner Event: This event is part of the Virtual Strides Partners Program. Plaid Frog will donate 100% of the net proceeds from this event after the Virtual Strides' partner and production costs are deducted.