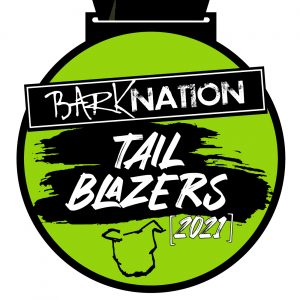 *** SOLD OUT ***
Distance: 5k
Cost: $35 – FREE Shipping!
To Benefit: Bark Nation
About this Virtual Run: Help save lives and end canine cruelty by participating in Bark Nation's 2021 Tail Blazers virtual 5k! Run or walk anytime/anywhere to help support the Pitness Protection pups! Your registration will support the amazing survivors of canine cruelty and dogfighting in their care. Each participant will receive a 4″ medal with the Bark Nation logo.

About the Charity: Bark Nation is a canine welfare organization whose mission focuses on ending canine cruelty and saving lives. The largest portion of the daily expenditures are dedicated to the Pitness Protection program. This program encompasses dogfighting investigations, seizure, live evidence sheltering, teaching the dogs that humans are pretty freaking cool, and finding placement for the dogs' life after dogfighting. Our P2Shelter is state registered and provides healing and reprieve to up to 100 amazing survivors of dogfighting at a time. They uphold humane sheltering and force-free handling practices, and provide enrichment and copious amounts of snuggles and kisses to the incredible survivors.
Virtual Strides Partner Event: This event is part of the Virtual Strides Partners Program. Bark Nation will receive 100% of the net proceeds from this event after Virtual Strides' partner costs are deducted.