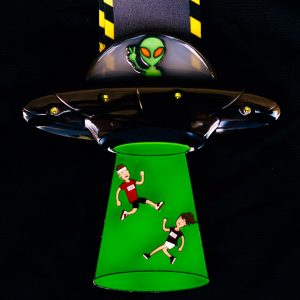 *** SOLD OUT ***
Distances: 5k, 10k, Half Marathon
To Benefit: It's complicated. See below.
Regular Price: $29
Club VS Member Price: $24 & Free Shipping
About this Virtual Run: You'd have to be crazy to actually storm Area 51 (seriously, don't do it), but you'd be crazy NOT to participate in the Area 51 virtual 5k/10k/Half Marathon! Run, walk, or teleport your chosen distance anytime and anywhere you want, whether that be in the Mojave desert, your favorite local route, or even on a treadmill under the comforts of air conditioning. All participants will receive an out-of-this-world 4″ UFO medal with an alien beaming up a couple of unsuspecting runners. The UFO is 3D molded with a translucent cockpit, and it features blinking LED lights, a glow-in-the-dark alien, and a heat-sensitive tractor beam that will change color from green to yellow when warmed (put it in the sun). We've never made a medal with this many special features.
"Let's see them aliens!"
About the Charity: This is a first for us here at Virtual Strides. For 57 consecutive months now, we have hosted a new virtual race with a unique medal and theme, and every month, we have selected a charity that goes along with the theme of that event to be the beneficiary. For this event, we reached out to multiple conservation charities that work in the Mojave Desert (where Area 51 is located), and for the first time ever, none wanted their name associated with our event, simply because the words "Area 51" are in the name of our event. We are the furthest thing from conspiracy theorists here, but this is pretty crazy.
Rather than delay opening this event any longer (we are already a week overdue), we are going to open registration with no named charity. We will still make our planned donation, but the donation will be made anonymously, and we can't tell you the name of the charity, at least not now. We will still POST the donation receipt on our Charities page after it is made, but we will probably have to hide the name of the charity when we do. Crazy, right???
So, for this one and hopefully only time ever, we need to be super generic here and simply state that a portion of the proceeds from this event (at least $5 from each registration) will be donated to a charity that works to protect public lands in Nevada and possibly elsewhere in the USA – Is that vague enough? LOL.