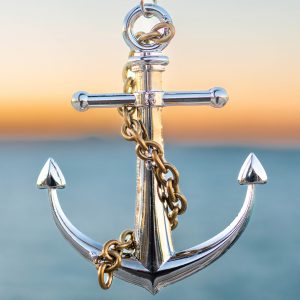 *** SOLD OUT ***
Distances: 5k, 10k, Half Marathon, or Custom Challenge
To Benefit: Find Your Anchor
Regular Price: $29
Club VS Member Price: $24
FREE Shipping!
About this Virtual Run: Little by little, one goes far. Hoist your anchor and join the Anchors Aweigh virtual race! Run, walk, bike or swim whenever and wherever you want to earn this gorgeous 4″ fully-3D anchor and brass chain medal while supporting a charity focused on suicide prevention, awareness, and education.
Matching Shirts: Add an Anchors Aweigh shirt to your registration for an additional $20 ($18 for Club VS members). Navy Blue shirts with a metallic gold anchor are 50/50 poly/cotton dryblend, available in adult sizes S-XXL: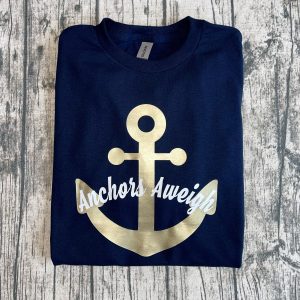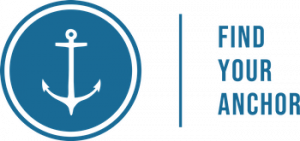 About the Charity: Simply put, the goal of the Find Your Anchor movement is suicide prevention, awareness, and education. The premise behind Find Your Anchor is that each person needs an anchor. "Establish an anchor — a dependable, stable, secure base that you can hold on to, one that keeps you firmly planted, no matter what winds or storms may come." Find Your Anchor doesn't assume to be the anchor, or have all the answers, rather, it sets out to create a community of anchors, all with the help of some little blue boxes.
The physical form of Find Your Anchor is a small blue box packed with various materials designed to inspire, soothe and offer support – such as a 52+ Reasons to Live deck of cards, an infographic on depression, list of resources, a letter, posters, a bracelet, stickers, some other sweet nothings, and a whole lot of good vibes. These boxes are then planted in public places (the library, the Vegas strip, etc.) to be found by those in need; specifically those close to suicide in one way or another. Boxes can also be requested for someone personally struggling, or if you know someone struggling and want to help. They also encourage individuals to add their own inspiration and anchors to their box before passing it along to someone new as a way to organically grow the community. In the end, they just want to get a little more love into the world.
A portion of the proceeds from this virtual race (at least $5 from each registration) will be donated to Find Your Anchor. For more information or to make a direct contribution, please visit FindYourAnchor.us.