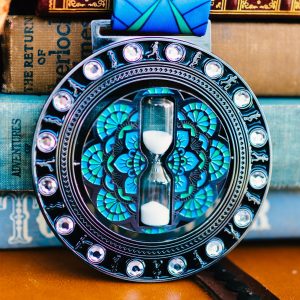 *** SOLD OUT ***
Original Race Period: Jan. 1 – 31
Distances: 5k, 10k, Half Marathon
To Benefit: Give an Hour
Regular Price: $29
Club VS Member Price: $24 & Free Shipping
About this Virtual Run: 2020 is here – No more excuses… There is Always Time to Run! Join this virtual 5k, 10k, or half marathon and get moving to support a charity whose mission is to develop national networks of volunteers focused on providing free mental health care to active duty service members, veterans, their families, and more. All participants will receive this one-of-a-kind 4″ medal that features a functional hourglass in the center spinner section. Run when you can, walk if you have to, crawl if you must; just never give up!

About the Charity: Since 2005, Give an Hour has focused on providing free and confidential mental health care to those who serve, our veterans, and their families. They have since expanded their efforts to address the mental health needs of other populations. Through the generosity, compassion, and expertise of Give an Hour's skilled volunteers, they are able to increase the likelihood that those in need receive the support and care they deserve.
A portion of the proceeds from this virtual race (at least $5 from each registration) will be donated to Give an Hour.  For more information about this charity or to make a direct contribution, please visit GiveAnHour.org.