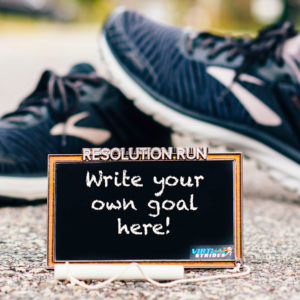 *** SOLD OUT ***
Distances: 5k, 10k, Half Marathon
To Benefit: Donors Choose
Regular Price: $25 
Club VS Member Price: $20  & Free Shipping
About this Virtual Run: The Resolution Run is back! Start the new year off right by joining this virtual race and setting some goals for yourself. Run or walk whenever and wherever you want to earn a 5″ chalkboard medal, complete with a piece of chalk so you can customize it with your own goals/resolutions for the new year. The medal has a stand built into the back, so jot down some goals or affirmations and then stand it proudly in a place where you will see it every day.
Proceeds from this event will be used to help fund classroom needs as requested by individual teachers around the country. We are hoping to make a positive impact on several classrooms by making direct donations through a website where teachers request them. See below for more information.

About the Charity: This month's featured charity is a bit different than most. Donors Choose makes it easy for anyone to help a classroom in need, moving us closer to a nation where students in every community have the tools and experiences they need for a great education. Created by a history teacher in 2000, Donors Choose is a website where teachers can post classroom project requests, and donors can choose the ones they want to support.
A portion of the proceeds from this virtual race (at least $5 from each registration) will be used to fund individually selected projects on the Donors Choose website. We plan to support as many projects as we can, beginning with some of the "most urgent projects" listed on the site at the time we make our donation. For more information about this charity or to make a direct contribution, please visit DonorsChoose.org.